Welcome to
Smurfy Sailor's
StepMania Simfiles Page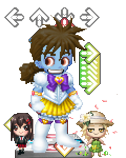 You will need to have StepMania installed on your computer to be able to use my SimFiles. Stepmania is 100% completely free to download and to play.

You will also need to be a registered user of Bemanistyle.com to be able to download or view my simfiles. It is 100% free to join the website.

The Simfile of mine you download, you place in the Stepmania folder called 'Songs'. If you need any help with getting Stepmania to work or getting my simfiles to work on your computer, please refer to the help guides they have at the website.

My files have also been tested and will work on In The Groove 2 arcade machines. You put my song folder onto your USB memory card in the 'Songs' folder that ITG2 creates for you the first time you play the game with your memory card at the arcade.

Here are the direct link to all of my Simfiles that I have personally created for you to enjoy:

Miranda Cosgrove ~ Brand New You



Miranda Cosgrove ~ There Will Be Tears



Clique Girlz ~ How Do You Like Me So Far?



Sofie ~ Super Rockstar Girl



Lights ~ Saviour (Adam Young Remix)



Demi Lovato ~ Me, Myself, & Time




Also be sure to check out Extreme Dance Dance Revolution Trivia!

If you're not up for dancing right now then click here to return to my corner of the universe.